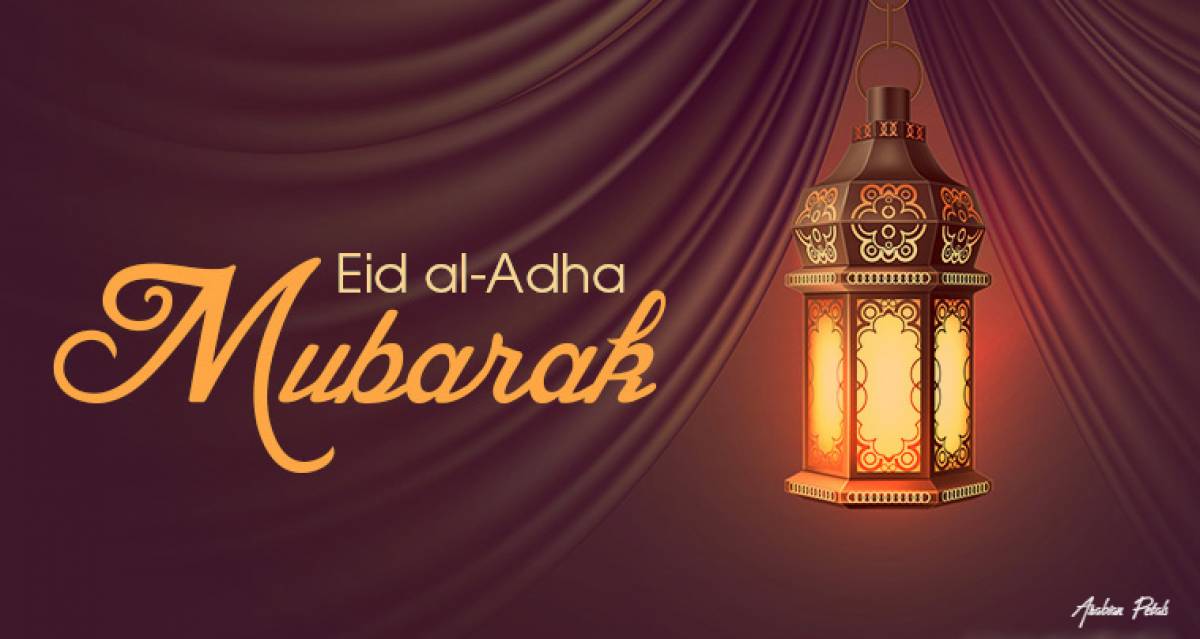 Eid is the word that shows the significance or meaning festival, carnival, or feast. Muslims celebrated two Eid, Eid ul Fitr, and Eid al Adha. Eid ul Fitr celebrated at the end of Ramadan and Eid al Adha is the means sacrifice that is celebrated when Muslims perform the Hajj or Pilgrimage. Eid is the blessed, merciful, and gracious event in Muslim life. 
Eid al Adha is the annual action renowned in the entire world of Islam. On the lunar calendar that's a little bit different from the solar calendar, the festivals in Islam based on this Islamic calendar. That's why depending on the lunar calendar the dates of both Eid changed every year. At both Eid festivals, the Muslims go for their prayer in the local mosque and the whole day distinguished with their families or friends.
Eid al Adha greetings are the supreme item when you receive or sending it to your friends and family. At Eid al Adha it's the biggest pleasure when a Muslim sacrifices his best for Allah. Eid al Adha also illustrious as the festival of the sacrifice or this carnival celebrated all over the world where the Muslims exist.
Eid al Adha Importance
Eid al Adha is an important celebration as it commemorates in the memory of Prophet Ibrahim's willingness when he sacrifices his son prophet Ismail by the order of Allah. This day has so much regard for Muslims for prophet Ibrahim and Ismail's sacrifice.
Eid al Adha History
Eid al Adha celebrated just at the order of Allah when his beloved prophet Ibrahim committed sacrifice of his son Prophet Ismail and was instructed by Allah in his dream. As Ibrahim prepared to sacrifice his son instead a sheep taken his place and after that a festival of sacrifice honor as a result of prophet Ibrahim acts of sacrifice.
So millions of Muslims at that specific date of 10 Dhul- Hajj slaughtered an animal a sheep, goat, cow, or a camel. This meat is divided into three portions and given to neighbors, family, and the poor or deserving people. All the Muslims act on it and celebrate their special day by performing all their duties.
Traditional Practice
On the day of Eid al Adha, all the family members dressed well and after performing prayers at the mosque they slaughter their animal. The meat is expected to be divided into three parts. People distribute the meat of animals among the poor, and after that, they enjoy it at home and get together at different places by making Bar B Que. The traditional culture of Muslims and they act on it for centuries.
Special EID Discounted Offers Visit Our Page: EID Collection
Eid al Adha Messages
At this month of Dhul Hajj, the sacred pilgrimage also held at the holy city of Mecca, and at the end of Hajj, Eid al Adha celebrated full of pomp and show. Muslims greet each other and message Mubarak sharing with their family members and friends.
Here are some of the messages or wishes that are shared on the day of Eid al Adha.
May this Eid fills your life with a feeling of endless peace and make your life with uncountable blessings.
I wish May you enjoy the feast on your table full of blessings and spend your Eid in the most heavenly way.
This Eid brings a lot of happiness and pleasures in the coming years and hopes your life be as stunning as the crescent on the sky.
On this auspicious may your faith to Islam be honor more day by day.
May the sacrifices on this day also strengthen our faith in Islam and save us from every evil?
May Allah accepts your sharing as a way you said thank Allah for all the luxuries and comfort that he has given, and Eid Mubarak to your friend on this delighting day.
May our life is awarded the teaching we all contribute to eradicating selfishness among people.
To act upon the teaching of Islam in a true way than we deserve happiness and calm in life.
These festivals provide the right way when people come closer to each other in different ways.
When we help others then truly we got the meaning of sacrifice.
Greetings for Eid al Adha
Eid al Adha greetings in English are quite common most people deliver their feeling through the message in English.  This is a special month when pilgrimage offered, and a big amount of people participate in sharing love and care for poor people. The meat from the sacrificed animal is better to be shared with poor or needy people. 
Eid al Adha Greetings for Friends and Family are:
May the blessings of Allah always shower upon you and your family?
I wish Allah bless you and your family with the ultimate happiness and enjoy all the delights of Eid.
You and your family be awarded a special pray and hope you enjoy the year ahead to be fruitful too.
May Allah accept our efforts and continue to shower his blessings throughout the year.
I wish you the great Eid greetings and cheerfulness.
My friend may Allah shower his magnificence upon you and your family.
My dear friend I pray for you must honor in all circles of life with great pleasures and comforts.
Eid Mubarak my friend hopes you and your family have a spectacular celebration on this cheerful day.
The greetings and wishes to your friends and family seem good to hear when people have too busy and hectic and sharing a tight schedule in life. So must try to take out some time to your friend and family and share your feelings and love when people are facing a shortage of meeting with their friends and family members. 
We all hope May this Eid brings a bright and peaceful life for all the Muslims in the whole world. Having greeting and wishes for other people is a good sign to pass a peaceful life.
Flowers Enhance the Sophistication of Events
The aroma and perfume of roses and flora upload an amazing beauty or soothing atmosphere. As unique plant life preserves exclusive meanings, so if the bouquet is according to the selection of recipient then it's lovable to give.
The surprising reception of vegetation from your buddies offers a tremendous feeling on Eid day. So on-line Eid Mubarak flower series leaves you and your own family with eye-catching happiness or the well-timed delivery indicates how anxious you are to offer this presentation of the bouquet. As everybody is aware of that plants and gifts are the most crucial element to pass a blooming and clam life.
Ideas to Celebrate Eid ul Adha
The great idea of gifting dissolves world serious problems into a relation of friendship. So giving and receiving gifts is an overwhelming feeling which develops and creates a relation of love and humanity. Gifts are the best things to cheer up the moods and disposition. These gifts you can present to your family friends and dear ones on Eid day or another special day.
Eid ul Adha no doubts a Muslim festival but it is the time of year when children are so much excited about having different activities and wearing new clothes. Different ideas of gift affecting, among kids and elders are very common.
Here is a long list of gifts that you can share with your dear one. Eid ul Adha gifts ideas are:
 Eid ul Adha Gifting for Kids
Money
The most common gifting for kids is the money that they receive from their elders. So they can spend this money on selecting their desired gift or they can also save it for some expensive gift. Having a gift in the form of money from their elder's exciting contentment for the kids.
Toys for Boys and Girls
For children, nothing is better than the toys kids are fond of playing if they got their favorite toy then the excitement of Eid will be doubled with the gift. A bundle of kid's toys is available in almost many shops in the market it's better to arrange the gift before time.
Eid ul Adha Presents for Elders
Just like kids, everyone is fond of gifts, and if this time you met with your friends and family with adorable gifts surprises for them are truly exciting.
Clothes and shawls
In South Asian countries, women are very warmhearted of wearing new clothes and jewelry and most of the time devoted to purchasing clothes, shawls, and jewelry, etc. so it is the best gift for any of the women or a girl. However, when the gifting discussed, there are lots of things that can be chosen but according to the festival, clothing is best for both men and women.
Time
The most valuable thing in the universe exists is the time now in this electronic or advanced world, where every person has short of time busy in their activities, so in such circumstances, time is the great blessing we share with others and with our family and friends. So spending time and make it cherish will be the moments of Eid ul Adha.
Gift Baskets
 The gift basket is the best gift if the other options are unclear, the gift basket might be filled with fruits, flowers, candies, chocolates, or any other item but the receiver will enjoy this uniqueness.
Religious Books
The Islamic heritage is full of different adventure thrills to study, it is a quite soothing activity for any Muslim. There are so many famous Islamic books the stories of the prophet in the Holy Quran, Qisas Al-Anbiya, and many others. Humanizing the frame of mind with these great stories will help in the future to be differentiating right and wrong.
Cakes, Foods, Bouquets and Dry Fruit Basket
In such a Holy celebration food, is the most appealing item and assembling it stimulating and tasty food part impressive role. Dry fruit basket, delicious sweets, and cakes are the popular items to be shared with your dearly loved persons.
These all things, ideas, and selection of gifts craft your Eid day with full of entertainment and enjoyment.
---